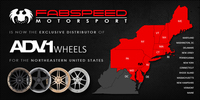 Fabspeed Motorsport is proud to announce that we are now the exclusive distributor of ADV.1 Wheels for the Northeastern United States.
For over 20 years, Fabspeed has been synonymous with quality and exclusivity within the exotic car tuning community and our partnership with ADV.1 continues that same dedication to quality. ADV.1 has cemented itself as the leader in the high-end custom wheel industry, delivering an outstanding product unmatched by competitors. We are excited to bring ADV.1's exceptional custom wheels to the Northeast!
Fabspeed will now fulfill all orders and inquiries from the following states: Maryland, Washington DC, Delaware, New Jersey, Pennsylvania, New York, Connecticut, Rhode Island, Massachusetts, New, Hampshire, Vermont, and Maine.
Please direct all ADV.1 inquiries to info@fabspeed.com or call 1.888.646.4945.