Fabspeed Motorsport USA Deluxe Bolt-On Tips incorporating a Maxflo true X-pipe design for the Porsche 987 Boxster/Cayman are a quick bolt-on option for upgrading both the look and performance of any and all 987 Boxster Cayman cars worldwide. We want to make sure you make the right decision when purchasing a tip option for your Boxster or Cayman. We've been getting a lot of positive feedback from our customers with our dual style tips that incorporate our true X-Pipe design. The Dual style Tips are a DIY installation with four different options that include double wall mirror polished, double wall black ceramic coated, double wall matte carbon fiber, or single-wall brushed stainless steel. These exhaust tips give the extra flair, sports car sound and real added power that will set your Porsche apart.
The Fabspeed Motorsport true X-pipe with tips flows 38% more than any and all Porsche factory OEM H-pipe tips and a massive 62% more than copycat X-pipes in welded or cast stainless steel. The copycat cast X-pipes actually decrease exhaust flow by 24% versus the OEM Porsche exhaust tip system.
Get the world's only and finest true Maxflo X-Pipe. See the explanation Video below so you don't make your car perform worse than the OEM Porsche tips. Caveat Emptor!
The factory Porsche AG OEM exhaust tip design sends exhaust gasses directly at each other from each end of the muffler. The exhaust pulses therefore slam into each other and then as pressure builds the exhaust is forced through a harsh 90 degree turn out to exit through the tips. Fabspeed's premium Maxflo X-pipe with dual tips is actually the world's only True X-pipe design. This allows exhaust gases to more efficiently exit the factory mufflers - increasing velocity and smoothing out sound resulting in a solid increase in power and exhaust volume. Equally appealing is the added aesthetic enhancement that our sporty exhaust tips offer and the finish is yours to choose from 4 tip finishes.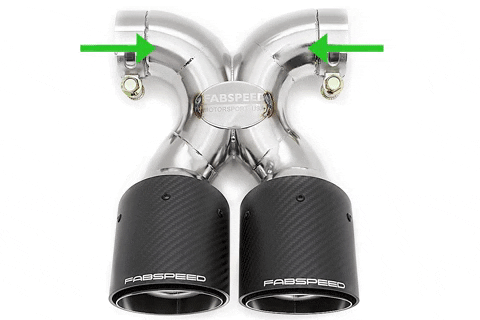 OEM / Factory Fabspeed
FEATURES
Fits all Porsche 987 Boxster/Cayman (2005-2008)

Available in single wall angle cut Brushed Stainless Steel, double wall polished stainless steel, double wall ceramic black coated, matte carbon fiber over stainless steel. Looking to further personalize your tips with custom engraving, just let us know!

Maxflo true X-pipe comes with all new hardware and Dual tips sized at 4" / 102mm to fill out the bumper opening properly.

Constructed from T304L stainless steel and / or 100% authentic carbon fiber

Direct replacement for the factory Porsche OEM T-outlet style tips

Noticeable improvement in exhaust flow and sound that you'll notice.

Simple DIY bolt-on installation no cutting or welding required. Only need a 15mm and 13mm socket set to do a simple installation.

All Fabspeed performance products are backed by the Fabspeed Lifetime Warranty
HP (whp):

+8

TQ (ft/lbs):

+5

WT (lbs):

-3
5 Reviews
Looks and sounds great.

Perfect finish, perfect look... and perfect sports car sound!

2006 Cayman S with Sharkwerks 350 kit. I had a Remus cat-back exhaust that had a perfect reverberation sound without drone. However, the sensitivity of the O2 sensors is such that the increased airflow set off the cat light. I know, they say it should not do that, but after spending $1,000+ replacing O2 sensors, finally removed the Remus, back to stock and the cel light went away. Missing that sports car sound, I researched and found Fabspeed tips. While the race exhaust drowns out that beautiful flat-6 whirr sound, these tips are quiet enough to hear both the engine and the correct sports car growl when you get on it! Acceleration feedback is now very satisfying. My car is now perfect! Thanks, FabSpeed!

Fast shipping! (to Switzerland) Fits perfectly with the original exhaust.

High quality product with precise fit and outstanding finish. This is a real improvement over the 2.7 oval exhaust outlet. It also seems to improve the flow of the exhaust by getting rid of the original T connector. As for being DIY... maybe if you have a lift. It required removing a rear wheel and one of the mufflers. I really tried but there's only so much you can do lying on your back under the car. Fortunately my car was in for service anyway and the shop gave me a very low price for the installation. Took them just over an hour.

Great look! Nice fit. Received order within 4 days with standard shipping. Can't make a comment on how the finish holds up; been on car 3 weeks. Only thing I find petty is the $5.00 handling charge.