Fabspeed Motorsport USA Deluxe Bolt-On Tips incorporating a Maxflo true X-pipe design for the Porsche 987 Boxster/Cayman are a quick bolt-on option for upgrading both the look and performance of any and all 987 Boxster Cayman cars worldwide. We want to make sure you make the right decision when purchasing a tip option for your Boxster or Cayman. The Dual style Tips are a DIY installation with four different options that include double wall mirror polished, double wall black ceramic coated, double wall matte carbon fiber, or single-wall brushed stainless steel. These exhaust tips give the extra flair, sports car sound and real added power that will set your Porsche apart.
Fabspeed Motorsport true X-pipe with tips flows 38% more than any and all Porsche factory OEM H-pipe tips and a massive 62% more than copycat X-pipes in welded or cast stainless steel. Cast X-pipes without our proprietary knife edged design actually decrease exhaust flow by 24% versus the OEM Porsche exhaust tip system.
The factory Porsche AG OEM exhaust tip design sends exhaust gasses directly at each other from each end of the muffler. The exhaust pulses therefore slam into each other and then as pressure builds the exhaust is forced through a harsh 90 degree turn out to exit through the tips. This allows exhaust gases to more efficiently exit the factory mufflers - increasing velocity and smoothing out sound resulting in a solid increase in power and exhaust volume. Equally appealing is the added aesthetic enhancement that our sporty exhaust tips offer and the finish is yours to choose from 4 tip finishes.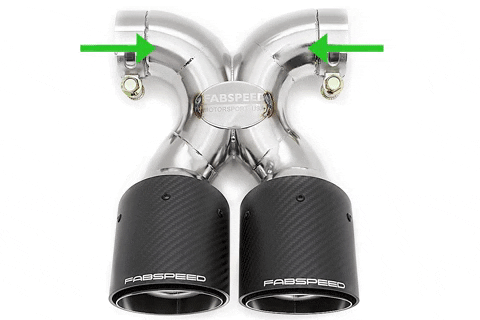 OEM / Factory Fabspeed
FEATURES
Fits all Porsche 981 Boxster/Cayman vehicles (2013-2016) equipped with factory OEM mufflers

Available in single wall angle cut Brushed Stainless Steel, double wall polished stainless steel, double wall satin black, matte carbon fiber over stainless steel


Maxflo true X-pipe comes with all new hardware and Dual tips sized at 4" / 102mm to fill out the bumper opening properly

Constructed from T304L stainless steel and / or 100% authentic carbon fiber

Direct bolt-on replacement for the factory Porsche OEM T-outlet style tips

Noticeable improvement in exhaust flow and sound

A simple bolt-on installation only needing a 15mm and 13mm socket

All Fabspeed performance products are backed by the Fabspeed Lifetime Warranty
Very high quality

Posted by Stephen Curley on 5th Jun 2018

More than pleased with the quality and appearance of the chrome exhaust tips. I question the "bolt on" description. I'm usually very handy when it comes to this level of installation but ended up taking it to a custom exhaust shop. Overall very pleased! Great company to do business with.

---

Perfect Upgrade

Posted by Jack B on 16th Nov 2017

Replaced the single 981 tailpipe with the black chrome Fabspeed unit. It looks fantastic and sounds nearly the same as stock. There may be a little less raspiness between PDK shifts in Sport+, but no complaints there. This is a class piece of fabrication and compliments the Cayman's good looks. Our local Porsche exhaust specialist said any DIY installer is a better-than-average mechanic since he had to torch off and replace the stock nuts while removing the right side muffler and pipe.

---

Good Quality Product

Posted by Unknown on 17th Aug 2016

I installed Carbon Fiber finished duel tips on my 981 to replace the single outlet. It's a quality product and I installed this in my driveway without stands. You do need to slacken off the muffler support bracket and I used a car jack to apply a little pressure on one of the mufflers to provide some clearance to allow for the tip to slip on and off. Once installed it looks great.
18 Reviews
requires some effort to installed

Carbon fiber x -pipe dual tips

Nicely finished product but not so easy to install on my 981. . I had to go out and buy a spreader to get the mufflers apart enough even with all the hardwere loose.

i was looking to replace the single exhaust ouitlet on my base 2014 cayman. fabspeed delivered my polished chrome tips about two or three days after ordering. the company followed up to assure all was ok. customer service and the quality of their workmanship is top notch and hard to find today. easy install if you have some mechanical capbilities.i highly recommend the product.as far as performance,i'd say minimal if anything and slight difference in sound from stock.

A work of art to look at, well engineered, easy fitting and sounds amazing

These bolt tips are beautiful! Well made, perfect welds. And perfect fit on my 981. Highly recommended.

Bolt on tips for boxter 981s

Great quality you expect from all Fabspeed products. No noticeable change in sound or power but looks more aggressive. On par with Porsche's quality.

Look awesome! Better sounding than stock.

I bought these to replace my stock base Boxster exhaust tip. The stock tip looks horrible. I purchased the single wall brushed tips. Fabspeed shipped them to me within about 3 days, and they were packed very securely. Even came with some fabspeed decals and a key ring tag. Nice touch! I had to buy some deep wrench sockets to complete the install, but with the deep sockets, star sockets, my race ramps, and some good lighting, the entire job took me about an hour. I did have to remove the drivers side exhaust in order to install the new tips, but it's really not that hard. I've never taken off an exhaust before, and I was able to complete it quickly and without incident. The Fabspeed tips look fantastic compared to the OEM single tip. They do extend past the bumper by about 1/4", but that doesn't really bother me. I actually like it not being flush because it shows the tips off a bit better. I haven't noticed any performance improvements, but it sounds a bit "meaner", especially when paired with my K&N air filters. Now I get to obsess over keeping the new tips clean and soot free after every drive :)

Fabspeed Cayman S 981 Street Headers and Exhaust Tips

Very pleased with the headers and exhaust tips recently purchased from Fabspeed. The quality of the construction and fit made for an easy installation. The performance increase was definitely noticeable. Also, the customer service from the gang at Fabspeed was fantastic. Definitely recommend their products for Porsche.

Had a great transaction with Alec..took into account im from New Zealand and done me a great deal with the freight/shipping. The tips turned up and looked absolutly great. As someone else mentioned it was not a easy job to fit the tips onto the existing exhaust system. Also the tips are not truely in alignment(a manufacturing issue when welded) but does not stick out like a sore thumb. Im pleased with the outcome though they look stunning and transformed the look of the car..also the sound is purer. In all a good investment from an asethetitic point