The 911 Turbo is often considered to set the benchmark for modern automotive performance. For the 997 the benchmark was set in 2006, and over a decade later we see it's age appearing compared to other big hitters. This is where the Fabspeed FS-700 Supersport Performance Package comes into play.
Matthew was thinking the same thing when he brought his 2008 Porsche 997 Turbo over from Maryland to our 25,000 Sq/Ft facility for a full "Big Turbo" FS-700 Supersport Performance Package install.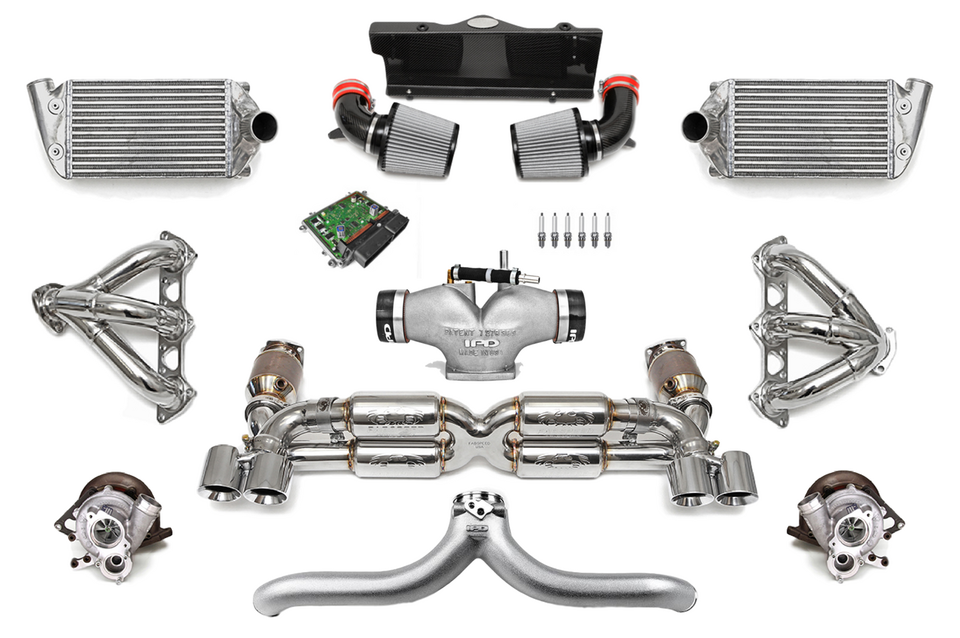 We started with a dyno run on our AWD dynojet to get figures and make sure it was in good health and ready for more boost. It already had our Supersport 70mm X-Pipe with Sport Cats installed which will add about 30 WHP over stock. It made 435 WHP and 458 FT/LBS of Torque which are solid numbers for a Tiptronic 997 Turbo.
Now it's time to pull everything apart and get those shiny new parts in there. First up are our Sport Headers featuring equal length, high-velocity 3-to-1 merge collectors which improve exhaust scavenging, providing better boost response and power throughout the RPM range.
Next, we swapped out the OEM Turbos for ByDesign 65mm Variable Turbine Geometry (VTG) Turbos. These ByDesign turbos are completely rebuilt using billet 65mm compressor wheels, vs. the factory 56mm cast wheels these are capable of compressing a lot more air volume. With all that extra boost and thus heat, AMS Performance 5.5" Intercoolers are essential for keeping intake air temperatures cool. Cooler air means more consistent power and safer conditions for the engine. These also come with trick AMS carbon fiber shroads that use the OEM intakes to channel air through the intercoolers.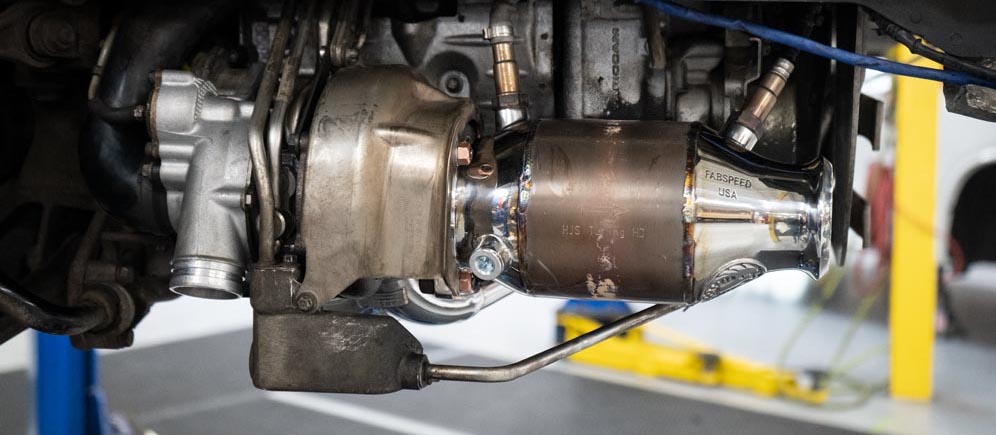 Another key component to this build are the cats and catback exhaust. All 997 Turbo vehicles have four catalytic converters, two on each exhaust bank. Depending on how wild you're looking to go, we can configure our Supersport 70mm X-Pipe Exhaust System with either a Catless x-pipe or with premium HJS 200 Cell Sport Cats. The HJS Sport Cats flow 90% of what a straight pipe would flow, resulting in impressive power gains and amazing sound improvement with no pesky check engine lights and emissions compliance (most regions). Also included with the Supersport 70mm X-Pipe Exhaust System are your choice of Polished Chrome or Satin Black exhaust tips.
On the topside of the engine we used our beautiful Carbon Fiber Competition Air Intake, an IPD Plenum and 82mm throttle body. All of which help the new massive turbines suck in more air.
Now back to the dyno! No big power build would be complete without a proper ECU tune to get the most out of all the new hardware. We use a COBB Accessport and custom Fabspeed Protune to get the most out of the FS-700 kit. Our in house tuner spent a few hours getting this 997 purring like a kitten. The final numbers came out to 559 WHP at 6300 RPM and 562 FT/LBS of torque at 4500 RPM vs. 435 WHP and 458 FT/LBS of torque stock. That works out to gains of 124 WHP and 104 FT/LBS torque for the mathematically impaired. With our biggest curve gains coming in at 163 FT/LBS of torque at 4500 RPM and 142 WHP at 4800 RPM. Looking at the dyno graph, you can see that the larger compressor wheels take a bit longer to spool up, but only by 300 RPM. Once you're past 3000 RPM the new setup blows the stock car away. Also, remember that this car is a Tiptronic model, and that torque converter sucks up a lot of power, so numbers on a manual car will be a lot more impressive. Roughly 600whp.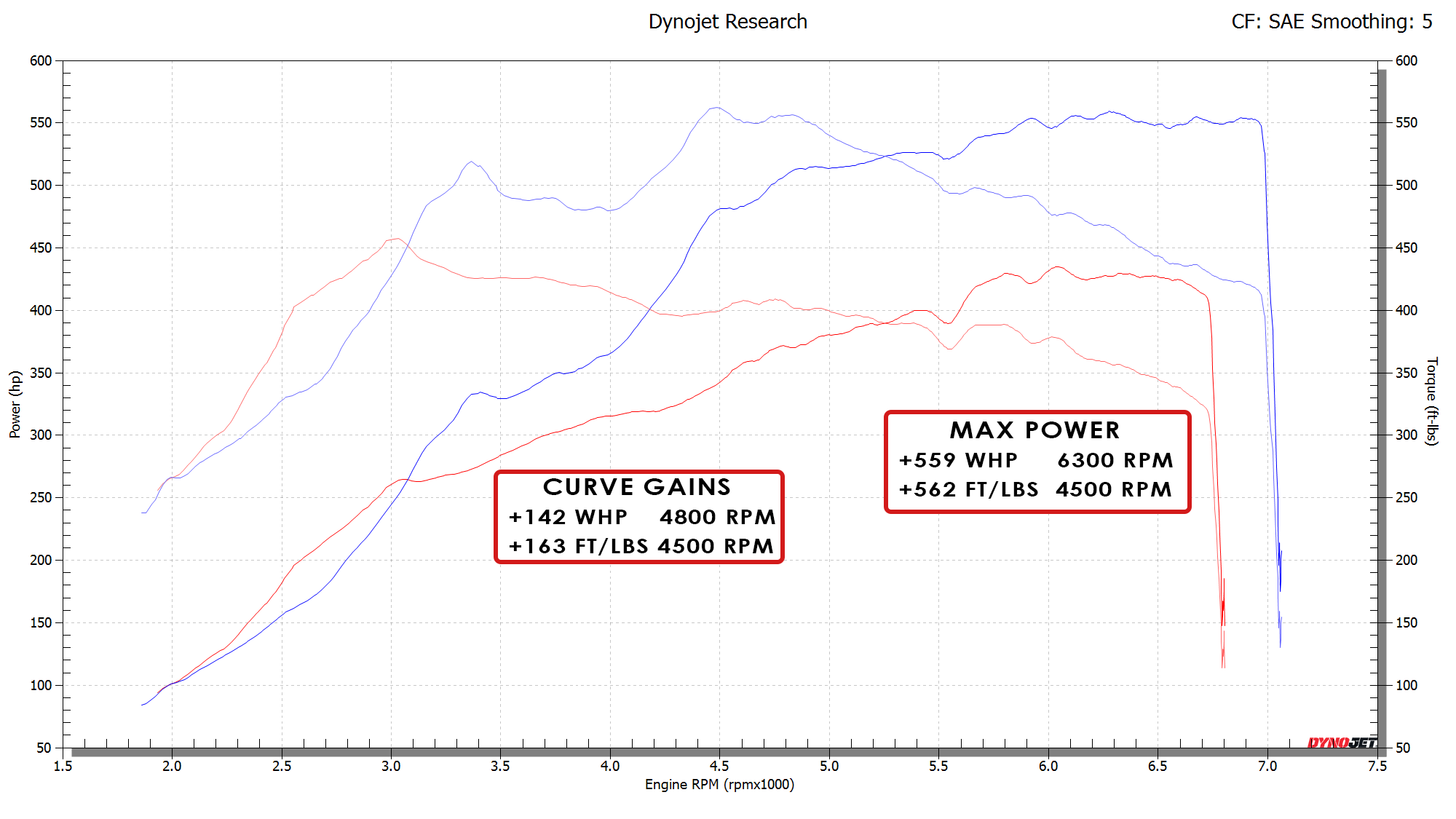 Another important, but seldom mentioned, part of a big power build is safety, reliability and driveability. At Fabspeed these are of utmost importance to us. While many tuners chase a higher dyno number at the expense of running the car to the ragged edge, Fabspeed's primary goal is to make significant power gains while maintaining the reliability and longevity of the vehicle. Our FS700 Supersport Package delivers a massive power and torque gain over stock without compromising vital driveline components. Rest Assured that we back our parts with an industry leading lifetime warranty, so you better believe we build cars to last.
No matter the goal, Fabspeed Motorsport has proven upgrades to further enhance the automotive experience. Stay tuned for more on this monster build and contact us today for a personal consultation!
Check out our reaction video of Matt's first drive in his 997 after all the uipgrades.