Fabspeed Motorsport USA has been designing, engineering, dyno developing, and street & racetrack testing the world's finest bolt-on tip replacement components for all Porsche Boxster/Cayman model years from 2005 - 2019. From a base model 2005 Boxster to the mighty GT4/ GT4 Clubsport and the latest 718 GTS turbo, Fabspeed has the best exhaust tip solutions.
Some background: In 2005 Porsche made a single T outlet with tips for the first Boxster/Caymans. These single T outlets as designed by Porsche were very restrictive as the entire engine exhaled through a single pipe, versus all 911s of the time had twin 2.25" outlets to breathe.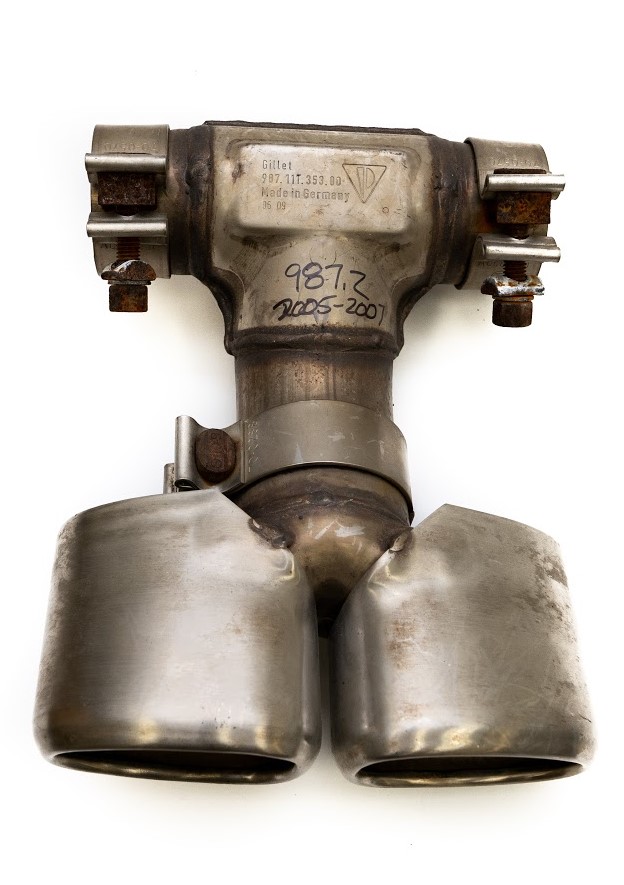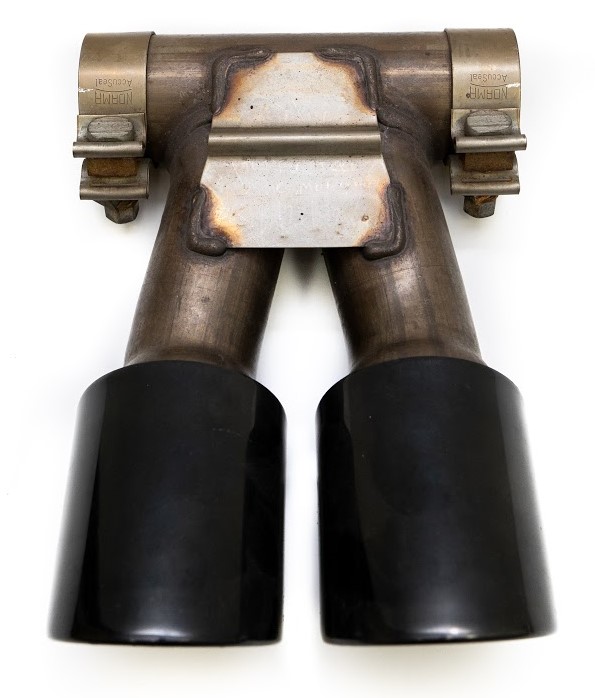 Porsche OEM T Outlet Porsche OEM H-Pipe
Over the years Porsche enhanced engine power through larger displacement and "S" models as the years progressed and the cars picked up power - all the way to the 2016 385 HP GT4/Spyder. On these higher horsepower models, Porsche introduced an H pipe slip-on outlet with dual-tip. The Porsche OEM H pipe with dual tips was offered in virtually all late model Boxster / Caymans. The reason Porsche introduced the H pipe design is to allow more power and reduced backpressure on these higher output engines. Porsche then offered the same H pipe with 3 styles of exhaust tips: polished, brushed and black chrome.
In the summer of 2004, Fabspeed Motorsport developed a replacement X pipe outlet for our newly acquired 2005 Porsche Boxster S as a research and development vehicle. Our first part developed as a replacement Maxflo X pipe with tips to replace the stock T outlet pipe and tips.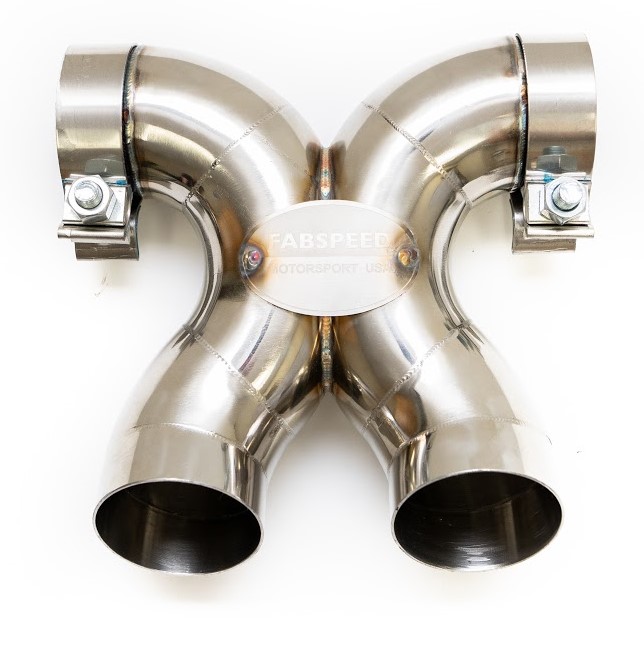 Fabspeed Maxflo X- Pipe
The Fabspeed Motorsport X pipe outlet with twin tips adds another +7 to +9HP over the stock Porsche T outlet. Talk about a huge significant bolt-on gain for stock mufflers.
Over the last 15 years, Fabspeed has been continually improving and refining the Maxflo X pipe with twin tip design utilizing our state of the art equipment and experienced R&D team. Our Maxflo X pipe is designed to increase exhaust flow through the scavenging effect our X pipe creates while also adding a subtle but noticeable increase in sports car sound. Through our years of development, we have seen the competitors try to mimic our design and always fall short on the performance aspect.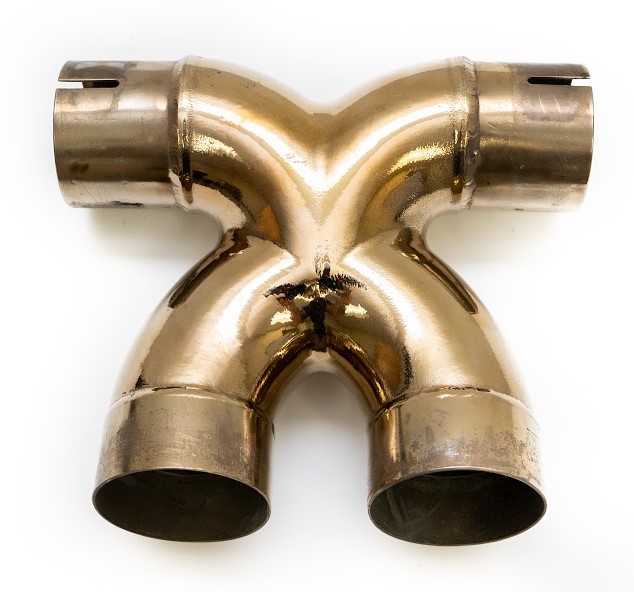 Competitors X-Pipe
In CAD-based flow testing the stock Porsche H pipe (2.125" inlets and dual 2" outlets to tips has a flow area of 7.09 sq inches, the competitor's X pipe above (2.0" inlets, 2.0" outlets) has a flow area of 5.40 sq inches, which is, therefore, a 24% reduction in airflow versus OEM Porsche stock. Our Fabspeed Maxflo X-pipe (2.5" inlets, 2.5" outlets 63.5mm) has a flow area of 9.81 sq inches, which shows a staggering 38% more flow than the stock Porsche H pipe and a 62% flow improvement over a competitor's lousy X-pipe.

We recently had a customer's Porsche 981 Cayman S on our dyno to put these three designs to the test in a formal setting. The first run was the baseline with the completely stock exhaust system with factory OEM Porsche H pipe with dual tips. After installing a competitor's X pipe design on the 981 Cayman S the X pipe showed a significant loss of power across the entire RPM range compared to the stock OEM Porsche dual-tip outlets. Airflow was reduced by approximately 24% and the vehicle lost more than -5 wheel horsepower across the RPM band. In certain areas, the cars lost even more torque and horsepower up in higher RPMs as the engine was feeling choked.
The next dyno session was featuring our Fabspeed Motorsport Maxflo true X-pipe with dual tips. The Maxflo X pipe allowed the flat-six engine to gain significant torque and horsepower gains throughout the power band and we saw a max gain of 6 WHP. Our design utilizing our X pipe allows more exhaust flow and scavaging effect to let the car breath better and give a subtle change to the exhaust note. The Fabspeed Maxflo X pipe in engineering terms removes the Porsche H pipe from all stock 987/987.2/981/GT4/ 718 rear mufflers and essentially converts the rear exhaust mufflers to a dual outlet configuration with an X pipe downstream for much more usable power versus stock. Huge gains of over +11 to +13HP versus the competitors X pipe design.
Fabspeed has and will always be the leader in producing performance products that don't sacrifice power or sound. We are a company of automotive enthusiasts building parts for automotive enthusiasts.