Fabspeed Motorsport USA is proud to announce the release of our first two performance products for the brand new Porsche 992 Carrera. We had the pleasure of having a beautiful black on black 992 in our facility for research and development, and crafted up some killer exhaust products.
These new generations of Porsche's can always be a daunting task to improve performance and sound due to factory improved exhaust sound options and more restrictive emissions compliance guidelines. But with our 25+ years of experience creating industry-leading world-class performance products for Porsche, we knew exactly where to focus our engineering and design team to produce the best fitting and performing products for the 992 model.
Our first plan of attack is always aimed at the OEM catalytic converters since Porsche loves to utilize 700 cell ceramic catalytic converters that restrict exhaust flow and limit performance and sound. Swapping out the OEM cats for a set of Fabspeed Sport Catalytic converters you can see improved performance without the worry of a check engine light. Our Sport Cats utilize German HJS 200 cell HD high-flow trimetallic catalytic converters for maximum exhaust gas flow and performance with zero check engine light worries.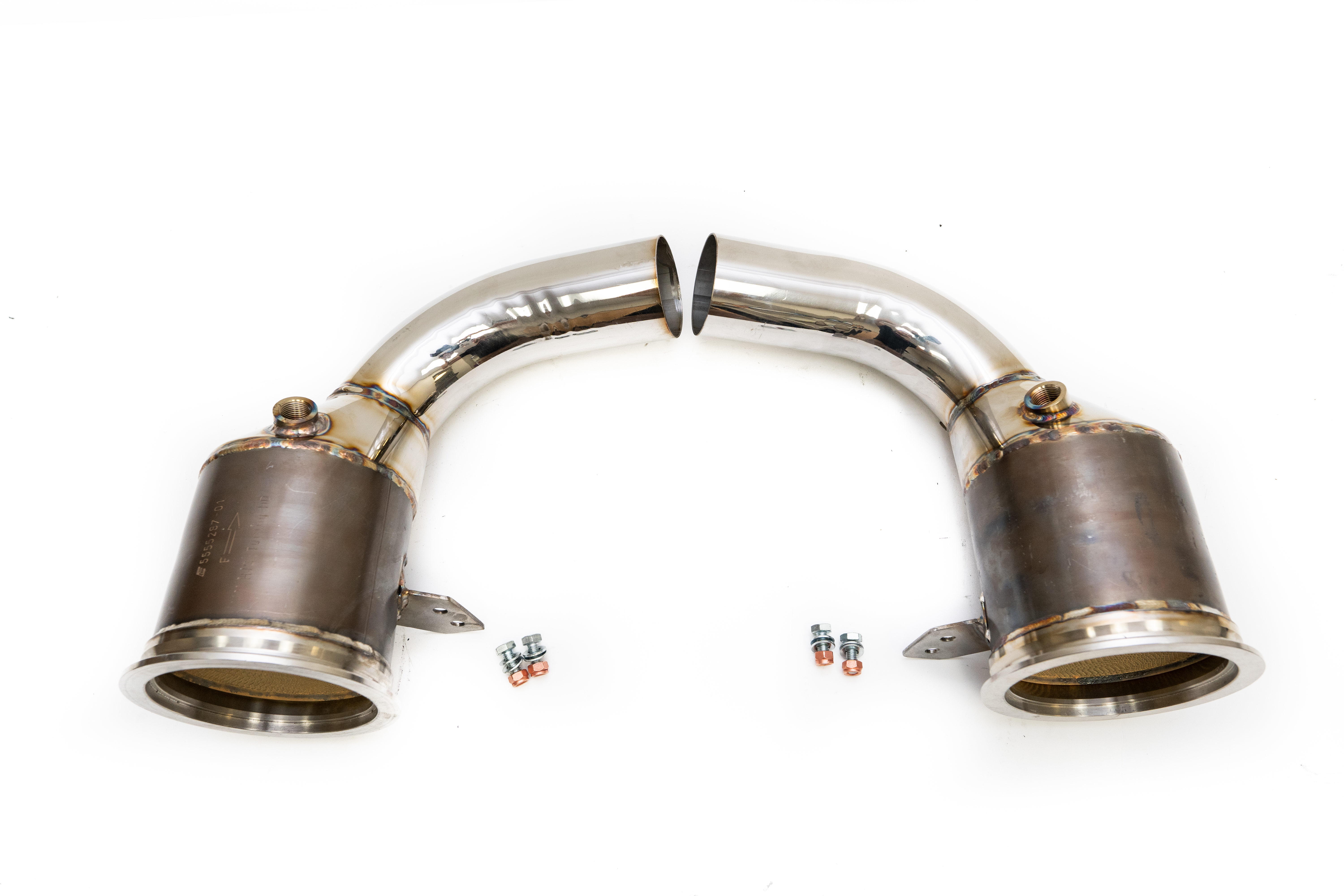 Fabspeed then dyno developed an exhaust option for those who want a more aggressive setup for off-road racing applications. The Fabspeed Cat Bypass pipes are the perfect solution for the drivers who want to get the maximum amount of power out of there new 992 when combined with our ExperTune Performance Software. Built with T304 stainless steel machined billet inlet flanges for smooth exhaust transition into our 5.0" to 3" race cone 70mm 2.75" CNC mandrel-bent tubing for zero restriction and maximum power output.
We look forward to the upcoming release of our new Valvetronic Exhaust system design but due to Porsche incorporating a new proprietary electronic exhaust valve on their latest models, we are working closely with Helical technology in the UK to produce the proper functioning valve for the 992 application. In the meantime, we think that the Fabspeed Sport Cat or Cat Bypass-pipe are going to be very popular exhaust upgrade options.
Stay tuned in the upcoming weeks for a full product line up featuring; Valvetronic Performance exhaust system, Expertune Performance Software, and our Full Performance Package which consists of our full product suite.