Are you looking to take the leash off your GT3? We have been working with these vehicles for over a decade and have developed a variety of performance options that can be mixed and matched to fit a ton of different vehicle needs and performance goals.
A great place to start your performance optimization is the headers. Fabspeed Motorsport offers two options for the 991 GT3; our Sport Headers and our Long Tube Race Headers. They are both constructed from T304L stainless steel and backed by the most extensive warranty in the industry.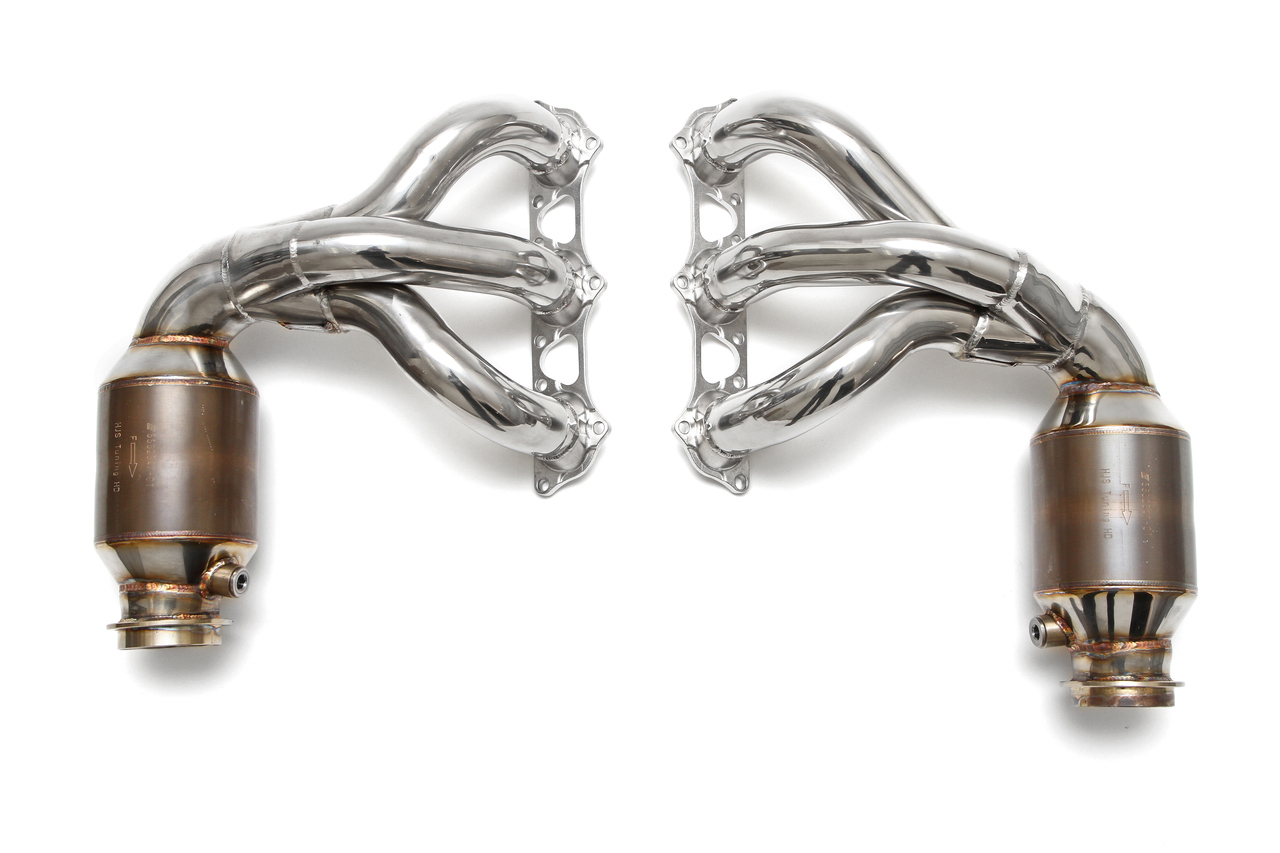 Our Porsche 991 GT3 Sport Headers are designed and dyno developed with the world's highest quality catalytic converters. The HJS German imported 200 cell catalytic converters flow 93% of a straight pipe, add power, gutsy sound, and do not trigger a CEL. Fabspeed USA is the sole North American importer for HJS catalytic convertors so be sure to look into what Catalytic Convertors a system uses before purchasing as not all catalytic convertors are created equal.

Our 991 GT3 Sport Headers are a great option for those who want a simple, bolt-on installation that will not trigger a CEL while still improving sound and power. This modification is a no-brainer for most people who are looking to begin modifying their vehicle and is one of our overall best sellers.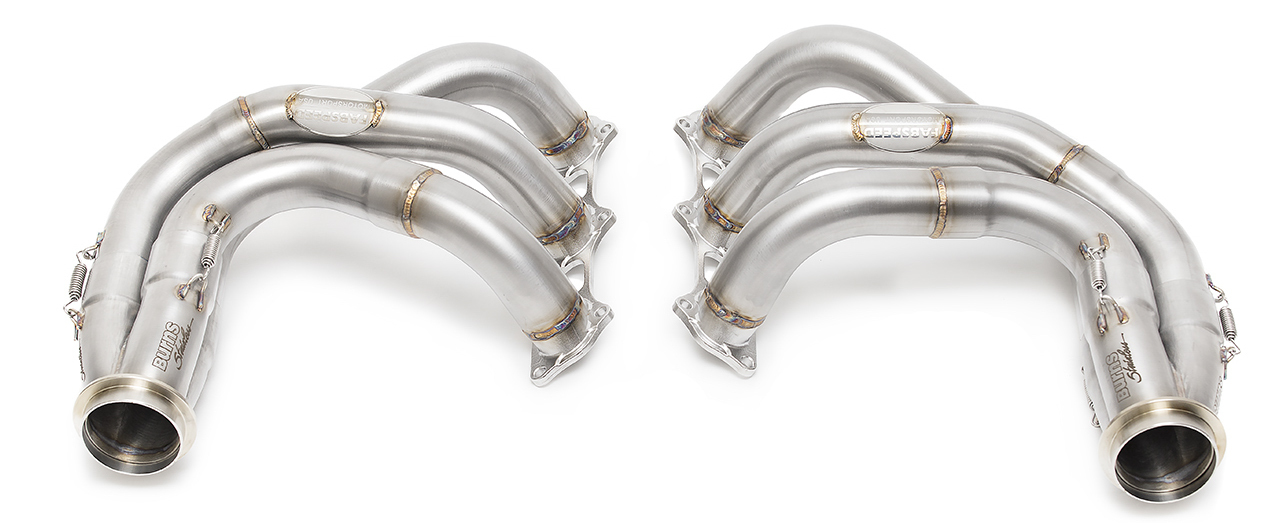 For those who want something more aggressive, our Porsche 991 GT3 Long Tube Race Headers are designed for racing, track events, and off-road use. These headers maximize the horsepower and torque potential of the Porsche 991 GT3 engine by increasing exhaust flow from the engine cylinders straight into the exhaust system utilizing Burns Stainless Steel Merge Collectors, who are the best in the industry at what they do.
This system was designed, incrementally dyno developed and maximizes engine power all throughout the powerband and specifically work hand in hand with our Side-Muffler Bypass Pipes; the combo adds +38 WHP, +28 ft/lbs. of TQ, and saves 38 lbs. compared to stock.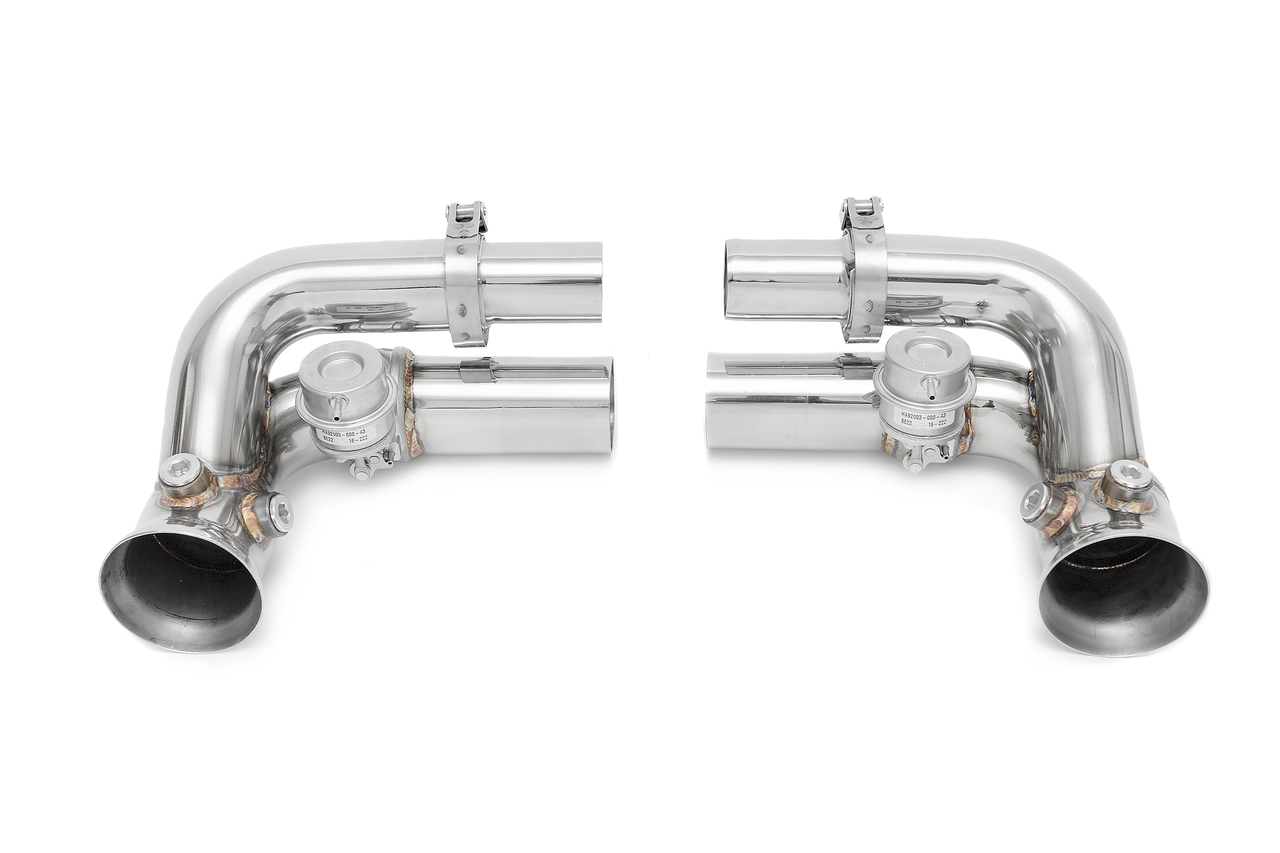 Our Porsche 991 GT3 Side Muffler Bypass Pipes comes in both a valved and non-valved option. The valved option utilizes the exact OEM GT3 silicon carbide GT3 factory valves from Helical UK. Just like with HJS Catalytic Convertors, Fabspeed USA is the sole North American distributor for Helical UK valves so be sure to research what valves a company utilizes before purchasing. With cheaply made valves it's not a question of IF they will break rather than WHEN they will break.
When it comes to replacing the center muffler, we have a few options here as well.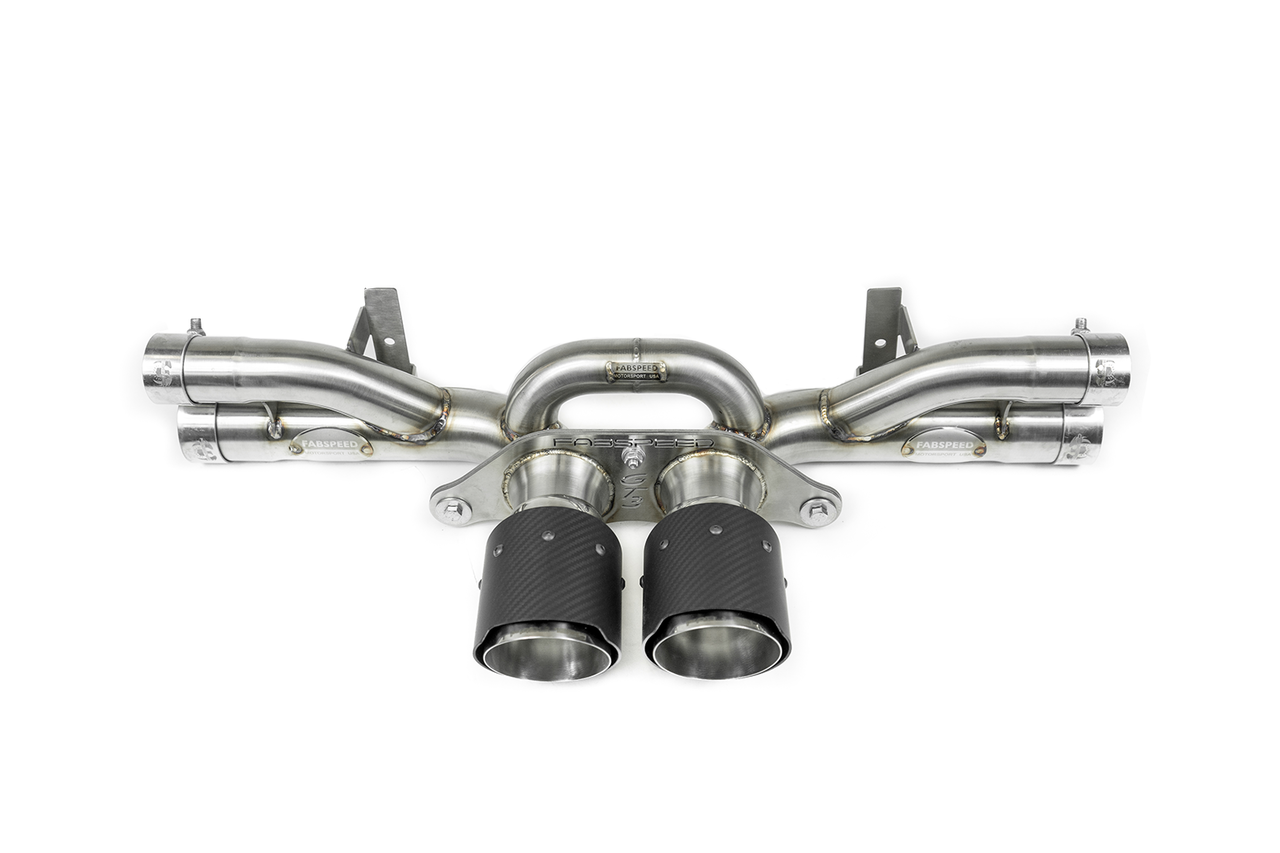 The product we generally recommend is our Porsche 991 GT3 Center Muffler Bypass Pipe. This is a simple, bolt-on installation that directly replaces factory center muffler for improved flow, weight savings, and aggressive sound. It is also constructed from T304L stainless steel and backed by our limited lifetime warranty.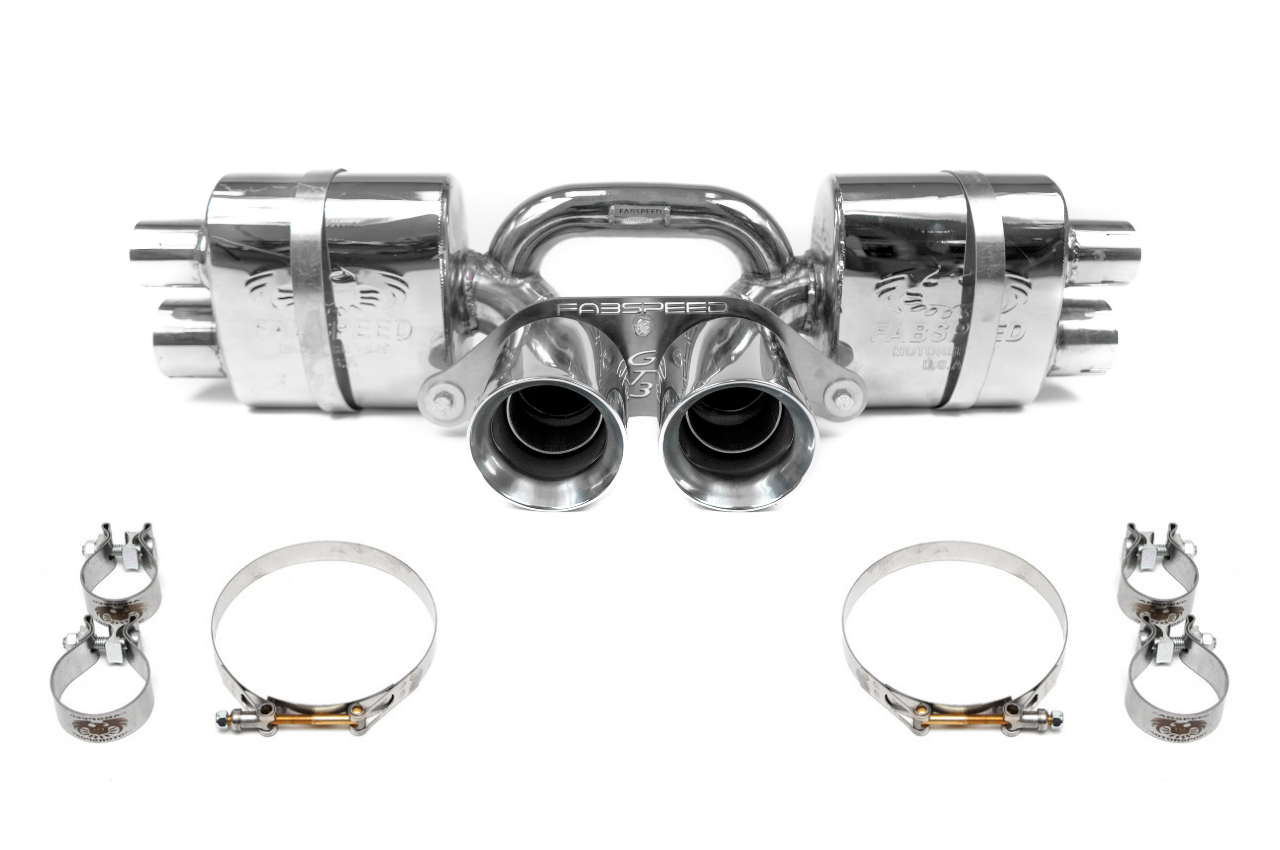 If you want something less aggressive, we have our Center Mini Maxflo. This is still a great system that improves WHP by +14 and TQ by +25 ft/lbs. This system does not completely change the exhaust tone as much as it improves upon the OEM sound.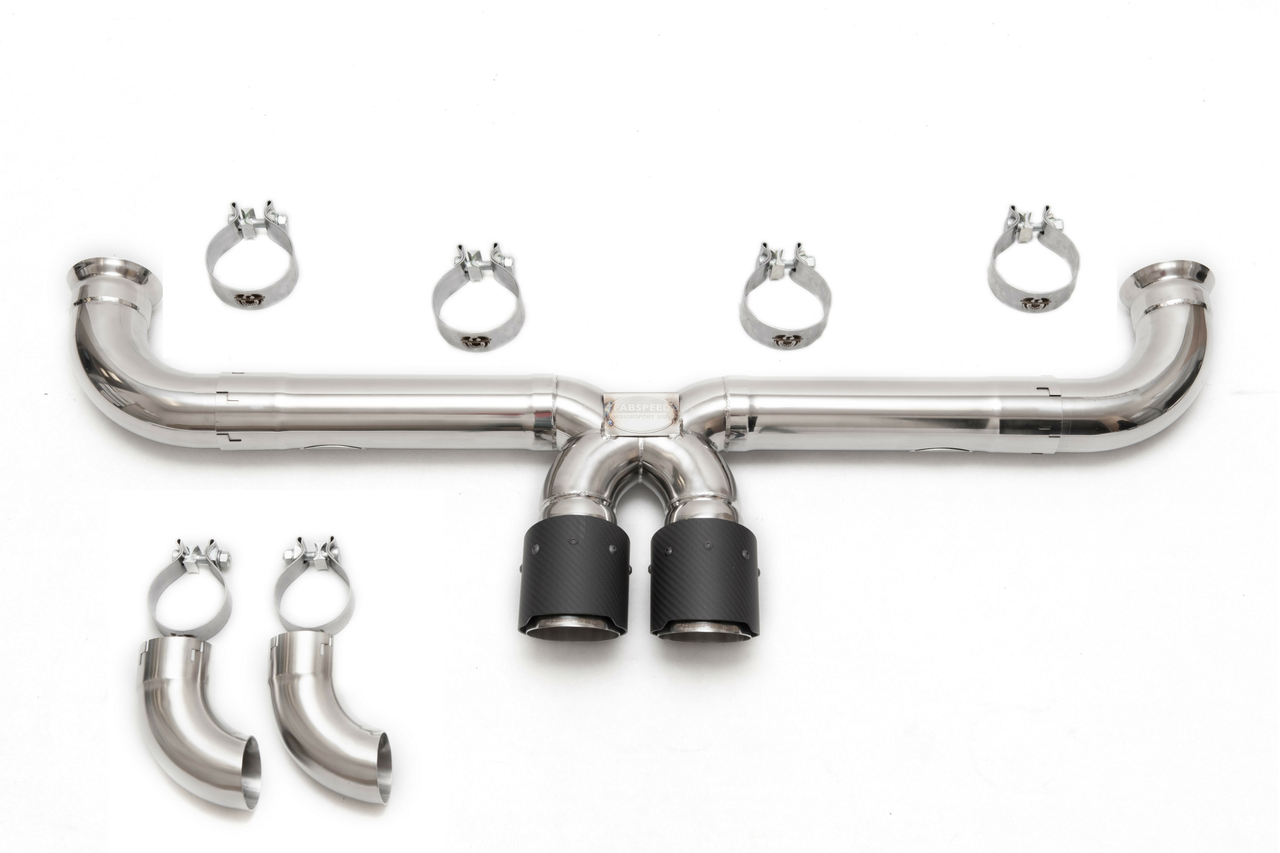 If you want our most aggressive system, we have our Porsche 991 GT3 Catback Competition Race X-Pipe. This is the ultimate lightweight cat-back exhaust system for the 991 GT3 / GT3 RS and saves 54lbs (24kg) off the rear of the vehicle compared to stock. This system replaces both the center and side mufflers and is perfect for competitive track use, high performance driver, or simply an aggressive street sound. Our Competition Race X-Pipe is fabricated out of 3" (76mm) T304L stainless steel tubing and has an integral X-pipe to balance both side of the flat six. The system also includes two 90 degree Turndown Tips for beating those pesky decibel limits at the track and is of course backed by our limited lifetime warranty.
No matter what your performance goals are with your 991 GT3, we are sure to have a setup that fits your needs. I would be happy to discuss your exact situation and goals with you if you would like to comment below, shoot me a PM or an email, or give me a call, I'll be sure to get back to you as soon as I can.
Thanks guys!