Fabspeed's new performance exhaust line is now available for the M235i! The factory exhaust on the M235i leaves a lot to be desired, and Fabspeed's Valvetonic Performance Exhaust and downpipe options fill that void perfectly!
THE SOUND OF A TRUE ///M CAR...
Fabspeed's Valvetronic Performance Exhaust gives the M235i the voice that it deserves, waking up the exhaust note with a wonderfully throaty roar. Full valve functionality allows the driver to unleash the sound at-will, while maintaining the ability to fly under the radar or carry on a conversation under normal driving conditions.
THE POWER TO BACK IT UP...
Fabspeed Sport Cat Downpipe and Catbypass Downpipe pair perfectly with the Valvetronic Performance Exhaust to offer massive performance gains. For the average performance-minded street driver, the Sport Cat Downpipe - designed with the same 200-cell HJS catalyst that we use in our Ferrari 458 applications - will add an impressive 21 whp and 36 ft/lbs of torque at 3000 RPM. For those less concerned with emissions, Fabspeed also offers the no-holds-barred Catbypass Downpipe, good for an additional 24 whp and 43 ft/lbs of torque at 3000 RPM. Fabspeed's downpipes are designed to work with the OEM exhaust or in conjunction with the Valvetronic Performance exhaust for the ultimate combination of sound and power.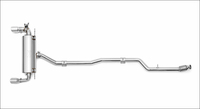 View the full line-up at http://www.fabspeed.com/m235i-f22/