Hey everybody – this is the first post in a reoccurring Tech Talk series by Fabspeed Motorsport. This series is geared towards people with mechanical experience that have been asking so many questions about specific components, our research and development process, and countless other in-depth topics.
In this post, we want to dive into our Porsche 991 Twin Turbo products and discuss both the components and process used to build our world-class exhaust systems.
We have been making products for the Porsche Twin Turbos for 25 years, and many of these designs have been developed over decades of Dyno development, street and racetrack testing and continually improving our Fabspeed Motorsport product line. There's no way to replicate decades of experience and consultation with leading race teams and shops of use in a lab/garage environment – that's knowledge that we had to earn the hard way; putting thousands of exhausts into circulation over the past few decades and constantly getting feedback from the car community.
Thanks to that experience, we had a great idea of what we wanted to do before we even got a Porsche 991 Twin Turbo in our garage.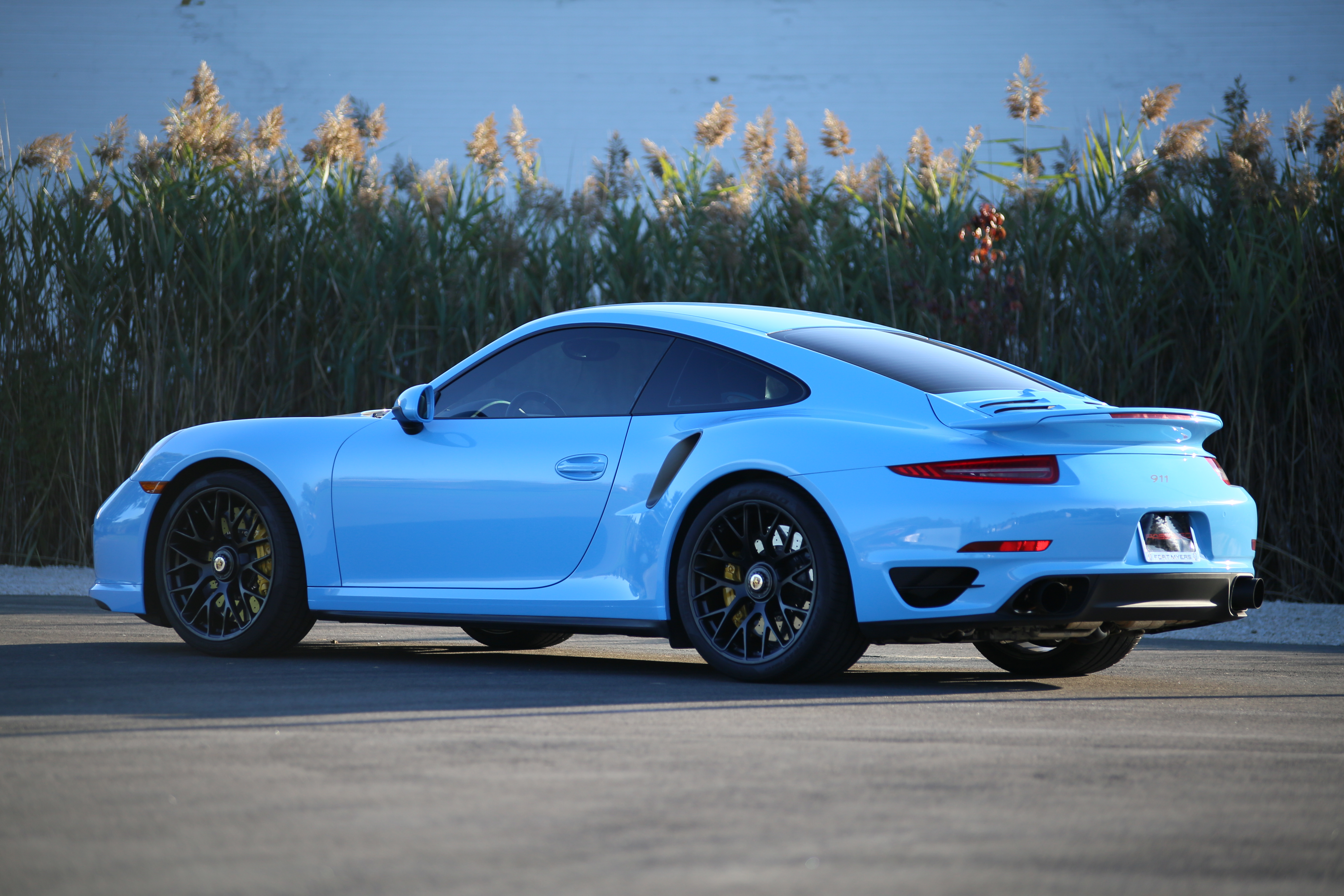 Many Porsche Turbo enthusiasts already know that Fabspeed Motorsport strives to engineer and manufacture the world's finest stainless steel high-performance exhaust systems and components. The result is both amazing sports car sound and increased engine performance, but what is it that separates Fabspeed from the seemingly endless amount of 911 Turbo exhaust choices? It's all in the details.
Right at the turbo outlet is where the Fabspeed's Supersport Exhaust X-Pipe begins and also where our product begins to differ from the competition. Our "Quick Release" Formula 1 / Indy car style adjustable V band clamp, on each male and female ball and socket joint, are used for maximum sealing and adjustability. No extra parts to buy. Unlike many other exhaust manufacturers, Fabspeed Motorsport uses HJS German imported catalytic converters cores with lost wax inlet and outlet investment castings for maximum exhaust flow, optimal power and durability.
More specifically, both inlets and outlets are investment cast lost wax CAD designed for maximum smooth internal exhaust flow. Our inlet features a 2nd oxygen sensor for proper data logging capability and air-fuel monitoring. The outlet gradually tapers to 70mm / 2.75" for maximum exhaust flow and more importantly, exhaust velocity. Exhaust velocity is paramount for quality sports car sound, maximum power and volumetric efficiency for any engine systems. Big is not always better and too big is terrible.
Fabspeed Motorsport uses the largest HJS German imported HD 200 CPSI catalytic converter that will fit in each and every 911 Turbo application. From the 993 Twin Turbo, 996TT, 997.1TT, and 997.2TT to the very latest 991TT and the GT2RS cars, we use the biggest and best possible HJS German trimetallic cores available to maximize power and durability. The cores are 200 cell and flow 93% of a straight pipe. What is truly unique is our 100% guaranteed of no Check Engine Lights for CLEAN power across the board. Virtually no reason to ever go with catbypass pipes unless you are competing in a Racing event or Competition.
Fabspeed Motorsport is HJS Germany's exclusive North & South American dealer distributor for their product line. This ensures the Porsche consumer that they are receiving brand new licensed legitimate HJS German directly imported homologated products. You will never ever get black market or counterfeit catalytic converters as has happened to many unsuspecting people that assume that catalytic converters are all the same.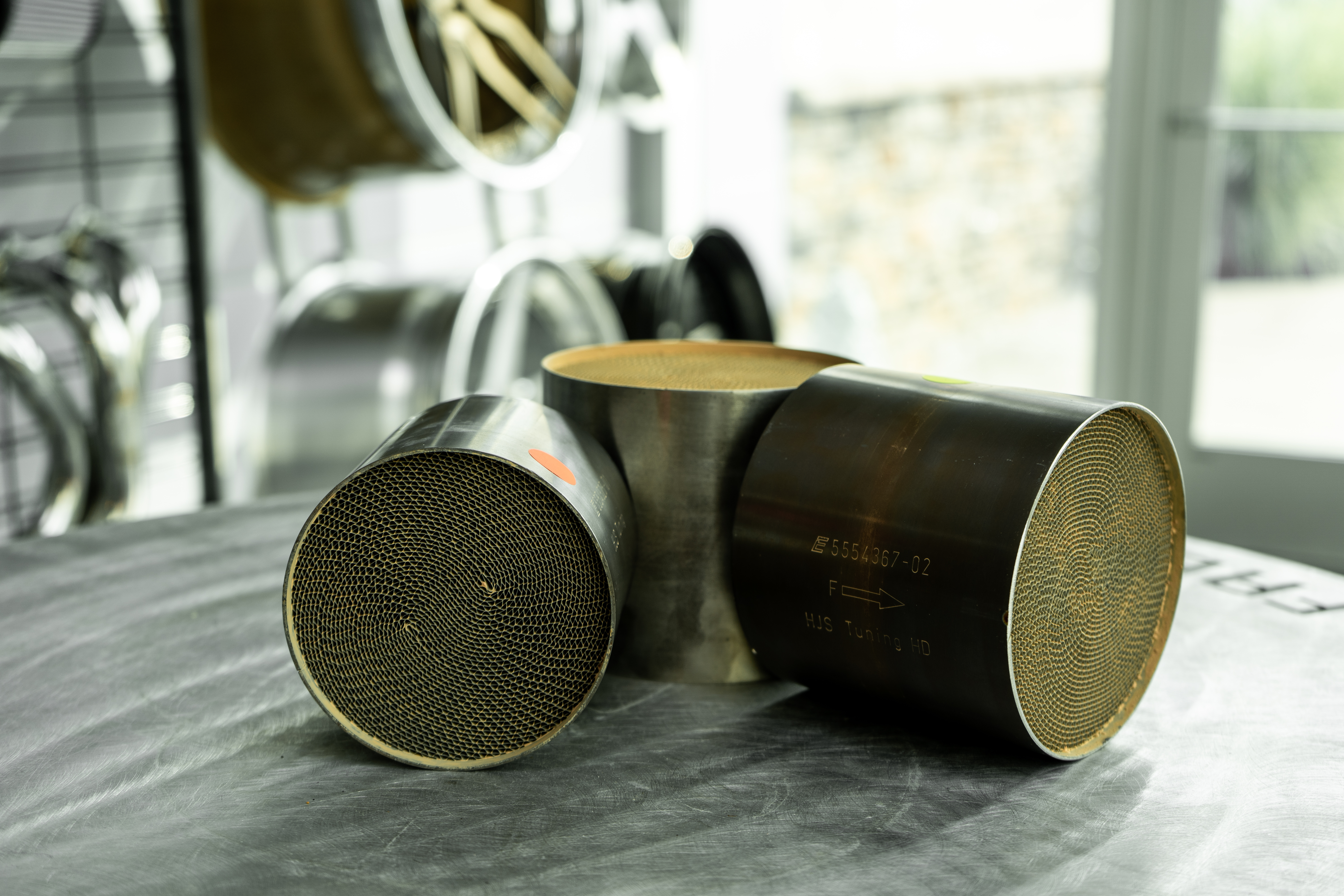 The next section of our 911 Turbo Supersport Exhaust X-Pipe System our 70mm quad resonated X-pipe featuring our proprietary investment cast X.
We use 70mm / 2.75" CNC mandrel bent T304L aircraft quality tubing with dedicated 70mm / 2.75" maxflo straight through resonators that are precision welded to a 70mm / 2.75" internal diameter cast stainless steel center X pipe. Therefore, all exhaust flow from the Turbocharger to the exhaust tips is, in fact, a true engineered high-flow system with zero compromises.
70mm / 2.75" tubing is the result of countless Dyno development and testing with numerous engine builders and tuners. 2.5" has proven too small over stock and left serious performance gains on the table. We have found that 76mm / 3.0" is way too large under any circumstances and drones / resonates terribly. From an engineering performance standpoint, we have concluded that 76mm does not make sense because the tip inlet is 60mm / 2.375" so having a 3.0" exhaust and then necking back down the tubing to a smaller size is futile. Even a dedicated 3.0" / 76mm tip on each side doesn't justify going with 3" tubing as the exhaust gas velocity drops, resonance and drone occurs, and the high pitch sports car sound are degraded.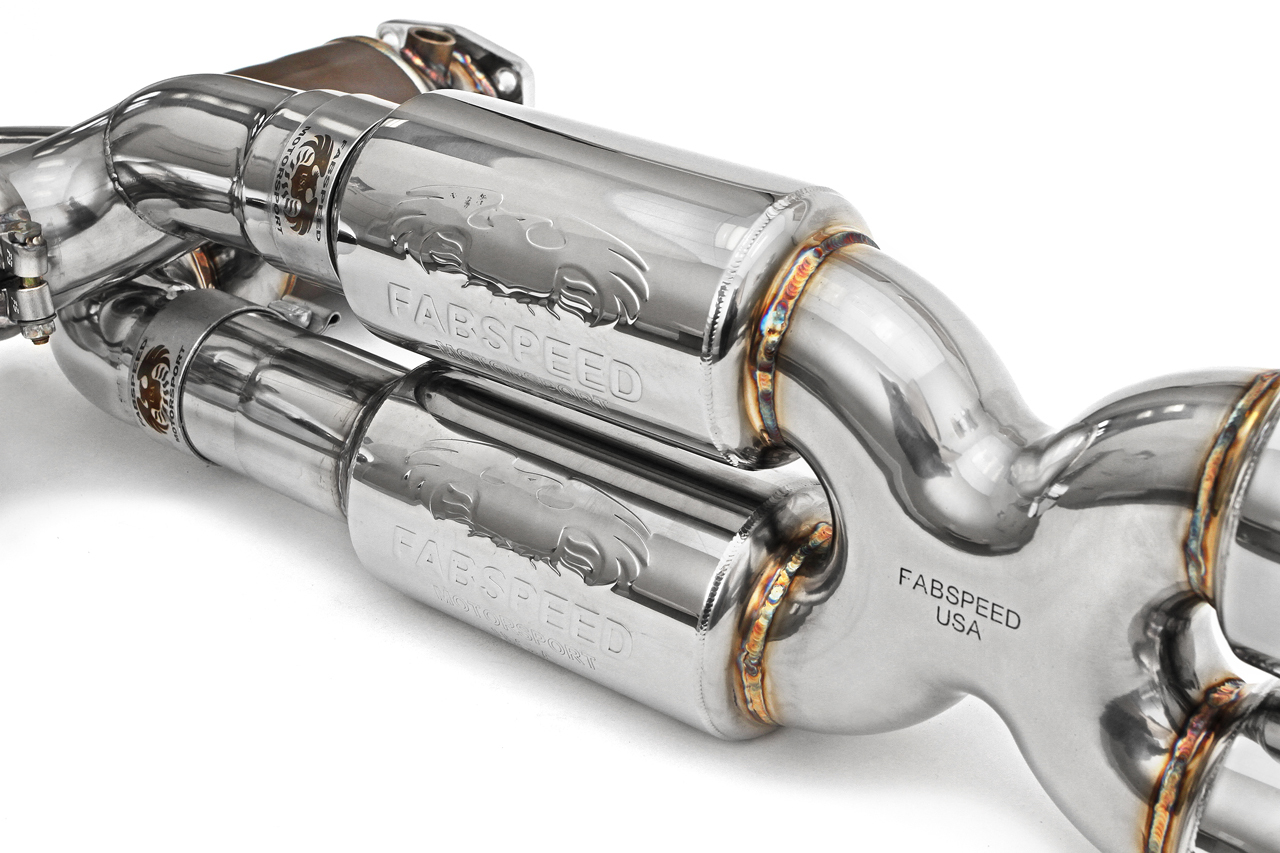 The crown jewel of our resonated X-pipe is our investment cast X (pictured above in the center). After years of actually owning and street and race track testing over 996 Twin Turbo and 997 Twin Turbo platforms, we developed our CAD designed flow 70mm investment cast center X-pipe with a proprietarily designed window gives optimal sports car sound and power by creating a scavenging effect. A scavenging effect occurs when one engine bank fires exhaust through an X-pipe which then creates a vacuum pulling exhaust gasses the opposite side of the exhaust system. The X pipe design also ties both sides of the horizontally opposed 6 cylinder engine together. Fabspeed Motorsport was and is the World's very 1st company to dedicate the time and resources to perfect a CAD flow designed X pipe into our systems. This cast X outperforms any and all welded X pipes made from 4 quantity 90 degree bends and or shortened U bends. You can never accurately reproduce X pipes from multiple welded pieces.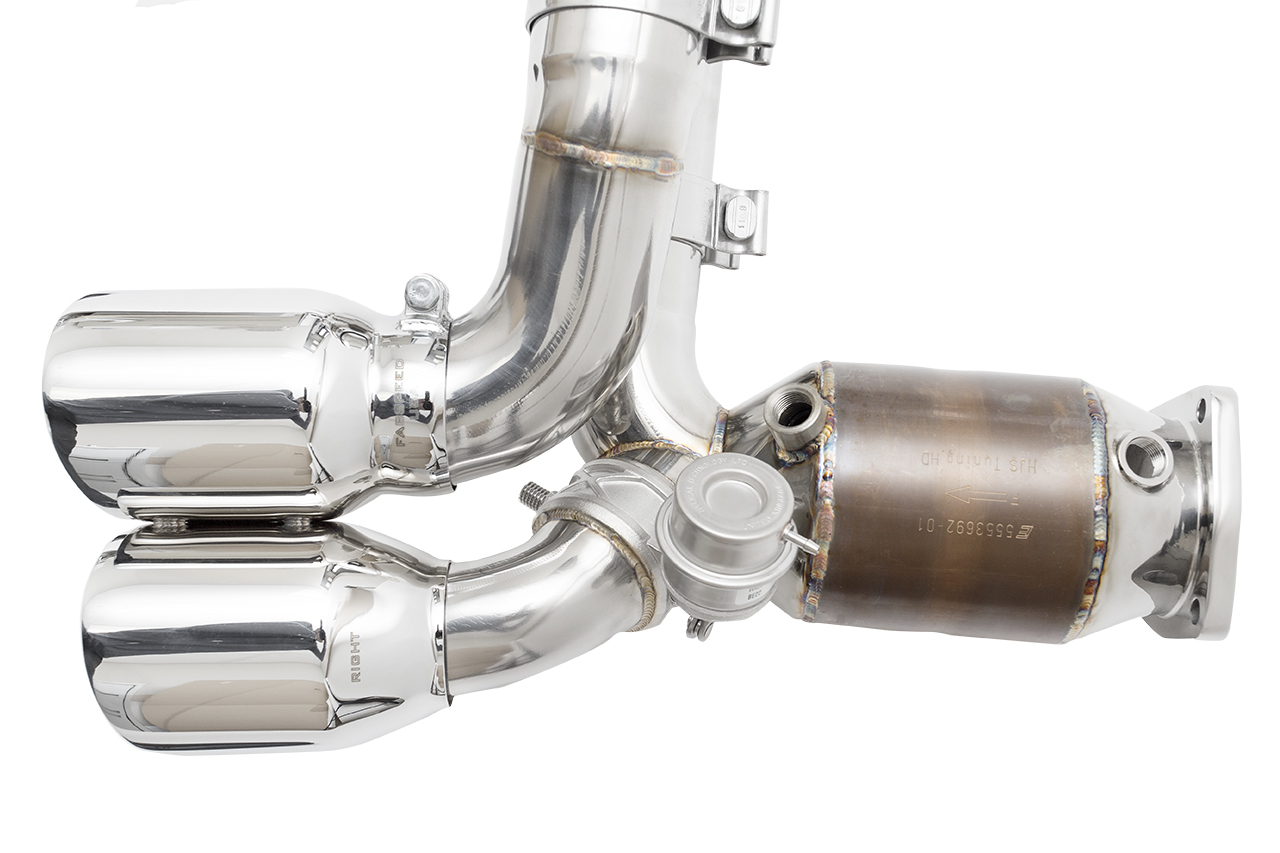 Finally, our valves. Fabspeed Motorsport utilizes the absolute best materials available for our products and that includes vacuum-actuated exhaust valves from Helical Technology UK.
Helical Technology is the foremost producer of high specification engine control systems, manufacturing valves of the highest quality for some of the most technically advanced and difficult applications. Helical Valves are the standard for high performance and are used by all of the top auto manufacturers in the world from Porsche to Ferrari, Lamborghini, McLaren, Aston Martin, Land Rover, and more.
They offer a proven OEM validated design with optional additional features. The actuator and valve designs are based on Helical's extensive experience in high-volume automotive applications. Standard features are the robust pneumatic actuator, flat sealing faces inside the valve, stiffening ribs and high-temperature bearings at both ends of the butterfly spindle, which allow the valves to withstand extreme temperatures.
We hope you guys enjoyed diving into some of the more technical aspects of our products! If you did enjoy this, let us know in the comments below the next topic we should have a Tech Talk about!