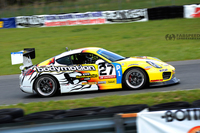 Fabspeed visited New Jersey Motorsports Park this past weekend to support and cheer on our friends and customers who were competing in the Intercontinental Trophy Cup, a premiere Porsche Cayman racing series.
The event was being held in conjunction with a NASA High Performance Driver's Education school, so we had the opportunity to enjoy watching some beautiful street cars tearing up the track as well!
Fabspeed is an official supplier of exhaust systems and headers for the ITC race cars, including the Supercup Exhaust System and Race Headers for the Porsche Cayman.
Check out our photos from the event and some great racing action on the track!