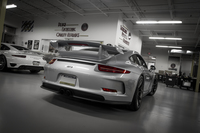 Touted as a "rolling diety" by Car and Driver magazine, the Porsche 991 GT3 is undoubtedly potent enough to make anyone question their very existence. With 475 naturally-aspirated horses to rip you around the track and a 0-60mph time of three seconds flat, there is no question that the latest GT3 is a solid performer and real contender in just about any supercar line-up. The only downside is that Porsche is building thousands of these machines, so those who want to stand out or get an extra edge need to look elsewhere for that extra "x-factor". That's where Fabspeed Motorsport comes in. Fabspeed is currently in the process of developing a full line of high performance exhaust and tuning upgrades for the 991 GT3 that will take the car from excellent to downright stunning.

Fabspeed's R&D team is working feverishly to perfect the following performance components for the 991 GT3:

Sport Headers with 200-cell High-Flow HJS Catalytic Converters
The OEM Porsche headers on the 991 GT3 are no slouch, but they leave a lot to be desired when it comes to optimal exhaust flow. In order to comply with the most stringent emissions regulations within their global market, Porsche is forced to design and equip the headers with restrictive and heavy catalytic converters that hinder the exhaust flow and prevent the car from performing at its highest potential. (It's the equivalent of forcing an Olympic sprinter to breathe through a drinking straw while running the 100m dash.) Fabspeed aims to alleviate this restriction by replacing the OEM catalysts with a higher-flowing alternative from HJS Racing, the world leader in high-performance catalytic converters. These 200-cell cats allow the car to breathe much better while still conforming with most emissions regulations. An added bonus of these upgraded headers is that they also improve the tone and volume of the exhaust note, which is relatively tame from the factory. Fabspeed also plans to develop a Race version of the GT3 headers which will be entirely free of any and all catalysts, providing the best possible exhaust flow for optimum performance on the track.



Performance Center Exhaust Systems
True-to-form, Fabspeed is planning to release a number of different options for the center section of the 991 GT3 exhaust in order to give clients the ability to tailor their upgrade package exactly to their needs and preferences. From the factory, the GT3 is equipped with a large, heavy, restrictive center muffler that quiets the car significantly when used in line with the factory side mufflers. Fabspeed is working to develop both a high-performance Maxflo muffler system for practical street-use, as well as a full center muffler bypass option for those who are looking to make maximum power and sound on the street or track.



Side Muffler Bypass Pipes
In addition the large center muffler, Porsche also equipped the 991 GT3 with very heavy side mufflers which significantly restrict and reduce the exhaust note of the mighty 3.8-litre powerplant. For those seeking maximum weight reduction and improvements in power and sound, Fabspeed is developing side muffler bypass pipes which will replace the behemoth mufflers with straight-through tubing sections. Fabspeed's Side Muffler Bypass Pipes for the previous generation GT3 reduced weight by over 34lbs, and the goal is to do the same for the new GT3.



Carbon Fiber Competition Air Intake System (pending)
As with previous generations of GT3, Fabspeed is exploring the development of a full carbon fiber air intake system that will both save weight as well as improve horsepower and intake sound by increasing the cold air induction capabilities of the already fantastic engine.Fabspeed's famous Performance Package for the 991 GT3 will likely include a combination of all of these components, resulting in expected gains of 25-30 horsepower at the rear wheels, in addition to giving the new GT3 the snarling performance exhaust note that Fabspeed is famous for. Stay tuned for updates, photos, and videos as Fabspeed continues development on this wild platform.

If anyone would like more specific information, call Fabspeed at 215.646.4945 or email info@fabspeed.com.


Here are some photos to enjoy in the meantime. High-resolution versions are available upon request.