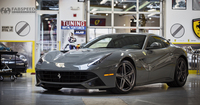 We're excited to have finally taken delivery of a gorgeous Grigio Medeo Ferrari F12 Berlinetta, on which we'll be developing our new F12 performance exhaust and tuning products.
Development plans include 200-cell HJS Sport Catalytic Converters and Resonator Bypass X-Pipe, as well as a wireless override Valve Controller. The factory exhaust on the F12 is quite tame when the valves are closed, so the goal is to develop an exhaust system that compliments the F12's factory exhaust note while adding some character and presence, and allows the driver to control the volume of the exhaust based on their preference.
Additionally, we're expecting to see some significant power gains by replacing the restrictive factory catalytic converters with high-flowing sport catalytic converters.
While the car is here, we'll also be installing wheels spacers and lowering springs from Novitec in order to give the car a more aggressive aesthetic and improve handling by lowering the center of gravity.
Stay tuned for updates as we begin to roll out products for these beasts!
Here are some photos and a quick teaser video in the meantime: